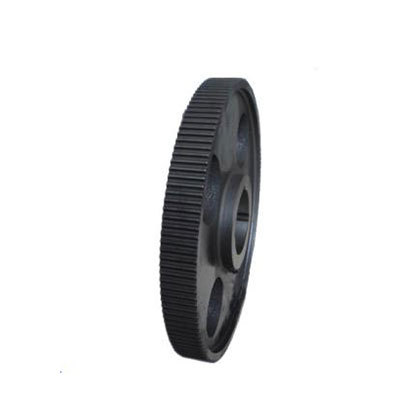 Timing Belt Pulleys
Product Description
Timing Belt Pulleys
Timing belt pulleys are widely used in various machines and industries.
The material can be steel C45, cast iron GG25, ductile iron, Aluminium alloy...etc.
Type:
HTD -3M,5M,8M,14M
AT5,AT10,T2.5,T5,T10
XL L,H,XH
Below part of the data for reference, pls note it's not completely shown,for details catalogue pls send email to info@cworlddrive.com
Non-standard/special designed timing belt pulleys can be supplied too.
TypeMouldBelt WidthTeeth No.TypeMouldBelt WidthTeeth No.
AT52112AT103115
AT52114AT103116
AT52115AT103118
AT52116AT103119
AT52118AT103120
AT52119AT103122
AT52120AT103124
AT52122AT103125
AT52124AT103126
AT52125AT103127
AT52126AT103128
AT52127AT103130
AT52128AT103132
AT52130AT103136
AT52132AT103140
AT52136AT103144
AT52140AT103148
AT52142AT103160
AT52144AT104015
AT52148AT104016
AT52160AT104018
AT52712AT104019
AT52714AT104020
AT52715AT104022
AT52716AT104024
AT52718AT104025
AT52719AT104026
AT52720AT104027
AT52722AT104028
AT52724AT104030
AT52725AT104032
AT52726AT104036
AT52727AT104040
AT52728AT104044
AT52730AT104048
AT52732AT104060
AT52736AT104718
AT52740AT104719
AT52742AT104720
AT52744AT104722
AT52748AT104724
AT52760AT104725
AT53612AT104726
AT53614AT104727
AT53615AT104728
AT53616AT104730
AT53618AT104732
AT53619AT104736
AT53620AT104740
AT53622AT104744
AT53624AT104748
AT53625AT104760
AT53626AT106618
AT53627AT106619
AT53628AT106620
AT53630AT106622
AT53632AT106624
AT53636AT106625
AT53640AT106626
AT53642AT106627
AT53644AT106628
AT53648AT106630
AT53660AT106632
AT106636
AT106640
AT106644
AT106648
Contact Us
N0.30 Gaoying Str., Shijiazhuang, Hebei, 050000, China
Phone :+8615831190938